Acorns Children's Hospice
Out of the Ordinary
Nicola Jones, Communications Consultant & Helen Mountford RGN, Acorns Children's Hospice
About us
"Doing youth clubs and adolescent weekends has helped me make new friends and it's been fun socialising with other people too. I've done lots of activities and because I tried wheelchair football for the first time at Acorns and loved it I started to do it by myself."
Acorns Children's Hospice Trust is a registered charity established in 1988. It offers both a network of care for life limited and life threatened children and young people, and support for their families, across the heart of England.
Children who receive support at Acorns have a variety of life limiting and life threatening conditions. Life limiting is defined as a condition with no cure which shortens life. Life threatening is a condition where curative treatment may fail. These conditions include those without an overall diagnosis, sometimes referred to as SWAN – syndrome without a name.
These children and young people are not expected to reach adulthood and require specialist care 24 hours a day, seven days a week.
Acorns first hospice, Selly Oak in Birmingham, opened its doors in 1988. Previously nowhere in the region provided this level of care and family support services to these vulnerable youngsters. In 1999, Acorns in the Black Country (Walsall), opened. This was followed in 2005 by Acorns for the Three Counties in Worcester.
All three hospices are purpose built bungalow style buildings. Each has ten specially decorated bedrooms which are designed to cater for the needs of babies, children or adolescents. There is also accommodation for families so they can stay close by. Facilities available include play and activity areas with up-to-date IT equipment and landscaped gardens. The buildings are light and colourful and the atmosphere is welcoming and friendly helping to ensure a home-from-home atmosphere.
Each hospice has a care team consisting of registered children's nurses, health care assistants, physiotherapists, community team workers and volunteers. Local GPs make visits and children benefit from access to the expertise of the Acorns medical director. Acorns helps families cope at every stage of their child's life and beyond into bereavement. Each hospice has 'special bedrooms' where children can stay after they have died until their funeral.
Acorns believe that no family should cope alone. Its hospices offer care and support services to suit each individual family's needs, and staff work hard to help them and their child. This could be providing short breaks or respite, therapeutic services, psychological support, end of life care and bereavement support. By responding quickly and consistently, staff help to give back some sense of normality that is often taken for granted in everyday life.
During the period 2013 to 2014 the hospices provided 3,218 short breaks. Every child cared for received a tailored care plan worked out with their family. It contains in-depth information on medical needs, modes of communication and likes and dislikes. Supportive palliative care is delivered by staff from a range of professional backgrounds, including nurses, healthcare assistants and physiotherapists, and supported by trained 'befriender' volunteers.
Therapeutic services are provided to promote relaxation and enhance wellbeing by reducing stress and tension. Complementary therapies, multi-sensory therapies and hydrotherapy are used to benefit both children and their parents. As one parent said: "J's favourites are definitely the multi-sensory and hydrotherapy facilities…he'll often be in the multi-sensory room on the waterbed with a carer with such a blissful look about him." Acorns hospices have specialist pools with warm temperatures, hoists and ramps which allow families to enjoy the water together.
Each family has a dedicated community team worker to provide psychological, emotional and practical support. They act as advocates, aiding access to services from other health, education and social care providers. During the past year the community team workers provided more than 13,800 hours of support to almost 1,000 families. There are also support groups for a wide range of needs. For instance there are siblings, grandparents and oncology support groups. These specialist groups bring those in similar situations together. This reduces isolation and helps people to develop resilience, self-esteem and a sense of identity.
Some adolescents outlive their original prognoses and survive into adulthood. For them the future can be daunting. As a result Acorns has undertaken 24 projects and activities with many of its young people in the last year. This helped them develop life skills to be as independent as possible. As one 14 year old said: "Doing youth clubs and adolescent weekends has helped me make new friends and it's been fun socialising with other people too. I've done lots of activities and because I tried wheelchair football for the first time at Acorns and loved it I started to do it by myself."
Young people aged 14 plus are helped to prepare for the transition from child to adult services. With the young person and their family, staff look at future options, including care providers, further education, training and employment and assist families with funding applications. Acorns partnership work with adult service providers develops their understanding of young people's needs and improves provision of appropriate services.
Acorns ensures there is space available at each of its three hospices in case of an emergency (family or child or young person's health); all referrals for end of life care are accepted. Staff are able to respond quickly and efficiently to every referral no matter the timeframe. During the last year, 17 children were referred to Acorns in fewer than seven days before the end of their life. Throughout this period, staff care for the child's physical needs, medication, pain and symptom control. They also provide psychological and spiritual support for both the child and the family.
In the last year Acorns supported more than 700 children and 1,050 families, including those who are bereaved. It costs over £8 million a year to support its families, which is £750 per day for each child's care. Acorns relies on the community to fund the majority of its activities and organises a year-long programme of fundraising events, from abseils to dog walks.
There is more information about Acorns and how it raises much needed funds on its website:http://www.acorns.org.uk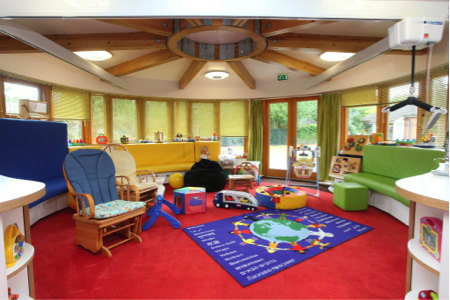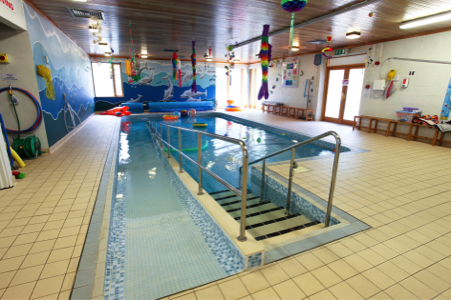 "J's favourites are definitely the multi-sensory and hydrotherapy facilities…he'll often be in the multi-sensory room on the waterbed with a carer with such a blissful look about him."