@ProudToNurse
Out Of The Ordinary
Maria Davison, RGN, #Maria Davison @ProudToNurse
My name is Maria Davison...
...and I am one of four who has organised the free event 'Making a Difference is 6Csy' (Leicester Racecourse, 23rd January – book through: http://www.eventbrite.co.uk/e/making-a-difference-is-6csy-tickets-14748028751?aff=eventful%2Fr%2Feventful.
I work in a community service as my 'real' job, but also work across the country in a whole host of areas. I do this because:
I am nosey and like to know what is happening in other places
I want to to learn and share good and bad practices witnessed
I am 33 years old and qualified as a nurse 3 years ago; I aspire to enhance my knowledge and experience every day in some way. I am passionate about fundraising and community inclusion, and in 2004, I organised an event in Derby attended by 13000 people, a success I attribute to social media.
I am a firm supporter of the benefits of social media, and have a family who will stand witness that I constantly have a phone in my hand. The even speak to me in 'Hashtag….' at times! Despite this, their support is invaluable through challenges met when a supporter of any cause or change. They will never know the difference they make to me.
Making a difference
When people ask me what I do as a job I tell them the truth, I strive to make a difference; I just happen to do it in a nurses uniform. Yes I am a nurse, and very proud of this, but more importantly, I am committed to caring with compassion something that I believe requires me to have the remaining 'Cs' to be able to do this; I am Committed to:
delivering the best Care
having the Courage to Communicate
the need for Competent Compassion to achieve this
I was awarded the First Francis Jaye National Care and Compassion Award recently, yet I am no hero. I have no special super powers and am certainly no angel from above. In my eyes, it is the people I have the honour to care for that are the true heroes in our system.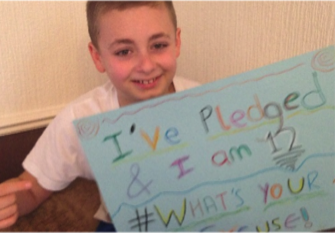 I am a Care Maker, the Regional Lead for the East Midlands for NHS Change day, and a Community Engagement and Inclusion Champion to name but a few!. People ask how I 'find the time to fit it all in?' my answer is simple; there is nothing to fit it - these roles and commitments are entwined concepts and a way of life. They are traits and desires of mine rather than being a 'to-do list' to be completed.
This philosophy doesn't have to be difficult or complicated, nor does it have to go through the turmoil of being agreed and signed off; making a change that will create a benefit is simple - and the reason why we all wanted to work in this field initially anyway; 'to make a difference'. Personally, I always say that every morning we wake up with 'a difference' and it is then down to the individual to choose what they are going to do with theirs.
So tell me, what do you plan to do with your 'difference' today?
Make sure to visit the NHS Change day stand in the exhibition hall and make a note of you intentions of actions – that was the deal remember! In return for attending this event everybody must have shared their sparkle and noted planned action.
We SHARED our story to INSPIRE the DO in you