Rewarding excellence: the Molnlycke Scholarship and Awards Programme
Out of the Ordinary
Deborah Glover, BSc (joint hons), PG Dip CPM, RGN,Editor, Primary Care Nursing Review
It's hard to top venues such as the Albert Hall, the Royal Opera House, or St Paul's cathedral, but we did it! The Vintner's Hall, London knocked the short-listed candidates and other guests somewhat for six with its 600 year old history (and ghost!). While the sun may not have shone, faces were beaming and then breaking into smiles (and cheers in some cases) as the Scholarship and Awards winners were announced and presented with their certificates by David Foster, Deputy Director of Nursing and Midwifery Advisor, Department of Health.
Mölnlycke Health Care is committed to supporting practitioners' professional development through both formal and informal methods. One of the main tenets of this delivery framework is the Wound Academy, which over the years has used key customers to participate in focus groups, Best Practice document development and the Scholarship and Awards programme.
The Scholarship and Awards Programme
The Scholarship and Awards Programme (SAAP) has been running for 12 years. During this time, the programme has supported and enabled wound care teams, experienced practitioners and novice practitoners to realise projects to be developed and implemented within their organisation, and facilitated professional development through the support framework provided in the year following the Scholarship.
The programme has been responsive to the vagaries of the tissue viability discipline; the Innovations in Care Award continues to attract many entries each year, reflecting the progression of the discipline within organisations, as does the novice practitioner Scholarship category. The Wound Academy provides the Scholarship winner with an individualised, formal framework to work within.
2014 Scholarship and Awards
Judges, Trudie Young, Mark Collier, Julie Evans and Brenda King have been with the programme since its inception (Figure 1); their job doesn't get any easier. David Foster (DH) continues to support the event with enthusiasm and a genuine interest in the work being presented.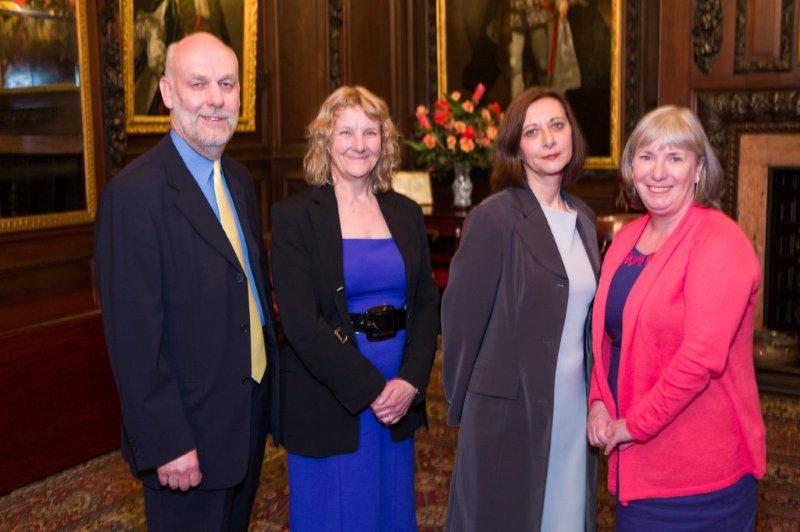 In this issue, and in Issue 3 (due end July), PCNR will feature the winning/highly commended entries, so here we are just naming names!
Scholarship winner
Helen Mountford RGN, Staff Nurse, Acorns Children's Hospice, Walsall
Awards
Burns category
Kristina (Krissie) Stiles RGN, Burn Care Advisor, Queen Victoria Hospital NHS Foundation Trust
Pressure Ulcer category
Winner – Carole Johnson, RGN, Darlington Memorial Hospital
Highly Commended – Wendy Luke, RGN, Chester Court Care Home